Continuing Education Providers
Approval Procedure
To obtain approval to provide cardiovascular perfusionists with Category I CEUs or SDCE credits, sponsoring organizations, agencies or individuals must:
Review the ABCP approval policy.

Complete and submit the appropriate Application Packet

*

along with requested documentation.

Submit a processing fee online according to the following tiered structure

(Effective January 1, 2014)

-

Tier I- from 1-10 CEUs $150;
Tier II- from 11-20 CEUs $250;
Tier III- from 21-30 CEUs $350;
Tier IV- 31 or more CEUs $450;
Late fee $100.
*

Application Packets


Continuing Education Unit (CEU)

Form 12e ↓Download the Program Approval Form


Self-Directed Continuing Education (SDCE)

Form 13e ↓Download the Annual Module Approval

Form 14e ↓Download the Multiple Day Module Approval

Download and complete any form with MS Excel

. Submit the completed file(s) as an e-mail attachment to abcp@abcp.org.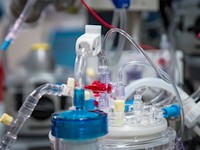 For questions and concerns about CEU program approval please send an email to Phillip Bailey at PBailey@abcp.org